Concord Hospitality Recognized as Marriott® Top Performer in Q1 2022
Concord Hospitality is pleased to announce it has been recognized as a Top Performer of Premium & Luxury Hotel Franchise Management Companies in the first quarter of 2022 by Marriott® International. The award-winning hotel management and development company ranked third in the top five list of companies operating eight or more Marriott hotels in this segment. The Renaissance Columbus Westerville-Polaris Hotel, managed by Concord Hospitality, was recognized as No. 1 in a list of top performers for Premium & Luxury Hotels during the same time period.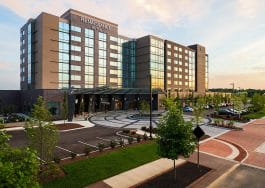 For hotels in the Marriott portfolio, the primary metric for measuring the guest experience and hotel performance is Intent to Recommend (ITRec) within the Guest Satisfaction Survey. ITRec has taken on an even more important role as the hospitality industry aims to recover from impacts of the COVID-19 pandemic and prepares for an influx of leisure guests this summer. Marriott's list of top performers recognizes those with the highest ITRec from Q1 2022.
Concord Hospitality has partnered with Marriott on the development of new hotel brands and properties for nearly three decades. That alignment for strategic growth and passion for delivering best-in-class service is evident in Concord Hospitality's achievement of winning the coveted Marriott Partnership Circle Award 13 times and through the hospitality company's induction into Marriott's Partnership Circle Hall of Fame for hospitality excellence in 2015.
This passion for guest experience extends to properties in the Opus Collection by Concord – a symphony of boutique hotels and culinary experiences, each carefully orchestrated by the Concord team. The curated guest experiences at these independent boutique hotels are cultivated by their individually crafted storytelling and design.
"We are very purposeful about creating and implementing powerful guest experiences in each of our properties and pay particular attention to knitting the story of each unique property in the Opus Collection throughout its design and later execution," said Mark Laport, president and CEO of Concord. "We are extremely honored to be recognized by an esteemed partner and industry leader for the quality of that guest experience. We are especially proud as a commitment to delivering remarkable experiences is at the core of our business, and all that our associates strive to achieve day in and out."
Concord Hospitality's growing management portfolio, which includes numerous Marriott properties, consists of more than 145 premium select-service, lifestyle/boutique and full-service hotels with over 20,900 rooms in the U.S. and Canada. The hotel management and development company is slated to have nearly 160 properties in its portfolio by the end of 2022.