Concord Hospitality Associates Participate in 12th Annual Share Day
Despite the COVID-19 pandemic, Concord associates across the United States donate 6,000 hours of service during annual day of giving
RALEIGH, N.C. (Nov. 20, 2020) – For the 12th year in a row, Concord Hospitality Enterprises associates joined together for a day of giving known as Share Day. All 127 Concord Hospitality hotels across North America – including 22 states and two Canadian provinces – and the corporate office dedicated time to charitable activities during the annual event, donating more than 6,000 volunteer hours on Nov. 19.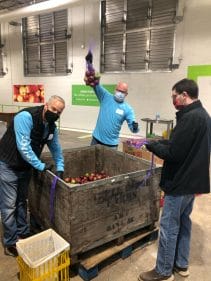 Due to COVID-19, this year's Share Day looked a bit different than in years past. Rather than gathering for 10 large events across North America, each property and the corporate office volunteered within their local communities totaling 128 smaller events. From volunteering at food banks to assembling care packages to making fleece blankets for a local orphanage and cleaning up marsh and wetlands, Share Day 2020 focused on giving back to the communities in which associates live and work.
"This year more than ever, our mantra – 'We are Concord, and we care to share' – is a driving force behind the work we do as we navigate the impacts of the pandemic together," said Debra Punke, Senior Vice President of Human Capital at Concord Hospitality. "It was such a pleasure to see our associates across the United States join forces to make a difference in their communities. While this year's Share Day differed from previous years, it was just as impactful and rewarding for us and – we hope – for our neighbors."
Since the inaugural Share Day in 2009, Concord Hospitality associates have raised more than $945,000, donated over 38,000 hours of service,
distributed 2.5 million meals to 28,000 families, and refurbished 24 homes. The annual event aligns with Concord's commitment to not only providing industry-leading hotel management and development expertise but also making it possible for associates to partake in a rich and vibrant culture established and propelled by its five cornerstones of delivering quality, living with integrity, supporting the community, growing profitability and having fun.
"Our 12th annual share day is on the books, and from all reviews was a huge success! In one day, Concord associates served homeless, senior citizens, kids, vets, pets, police, firefighters, and hospitals. We taught kids to read, cleaned up our neighborhoods, and donated our used linens and clothing – all for our neighbors in need. We did all this through various organizations – local food banks, YMCA, Ronald McDonald House, Habitat for Humanity, Martha's table, Refuge for women, and many more. I could not be more proud of your efforts on share day, and I know there are thousands of grateful recipients all around North American who join me in saying, thank you!" – Mark Laport